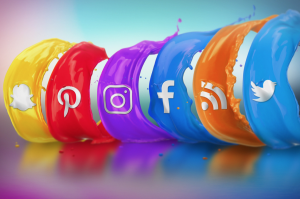 If you are only just getting around to exploring social media as a marketing option for your business, you have been missing out on a tech-driven phenomenon that has almost a third of the world's population on board!
Let's bring you up to speed with our concise explainer for the world's 5 most popular social media platforms and learn how you can get involved. If you want to know more about how to succeed on any of these platforms, we're here to help! We can design and implement a winning strategy which is 100% results-focused. Contact us to learn more.
1. Facebook
What is it?
Facebook is the largest and most well-known social media platform in the world and provides networking and connectivity for its users via its proprietary interface. Users can sign up to have a free profile on the platform and use it to connect with friends and family, businesses and organisations.
Reach
In the fourth quarter of 2019, there were 2.5 billion average monthly users on Facebook.
Key demographics
As with most social media, youth prevails, and the largest number of users are under 20. However, Facebook is the most popular social media platform among over the 50s who account for one of Facebook's fastest-growing groups. Women are using the platform in greater numbers than men.
Surprisingly, the majority of Facebook's users are outside the US with the Asia Pacific region being most active.
Types of content
Share attention-grabbing posts to connected 'friends' and 'followers'. Posts can be:
● written
● photo
● video
and can include follow on links to the content of your choice. Content can be public, private or group-based.
Engagement
Users can engage with your content by liking, sharing or replying to your posts. In addition, you can add gifs and emojis too.
Advertising
● Facebook Ads are paid ads featuring relevant content that can be targeted to specific Facebook audiences.
● Boosted content. Posts and other content published in your feed can be boosted, for a fee, to a wider audience.
2. Twitter
What is it?
Twitter is home to the world's foremost microblogging platform where registered users are able to send and receive posts called tweets.
Reach
Up to 330 million users express themselves on Twitter every month.
Key demographics
The majority of users (63%) are between the ages of 35 and 65. Almost two-thirds of users are male. 79% of all Twitter accounts are outside the US.
Types of content
140 character Tweets can include words, GIFs, links, photos and videos.
Engagement
Registered users can respond to tweets by replying, retweeting (RT) or liking content by clicking the heart sign.
Advertising
Business users can engage broad audiences using their paid Twitter Ads program with paid content-generating impressions and engagement.
3. Instagram
What is it?
Launched in 2010, this American social media app was primarily concerned with the sharing of smartphone photos. Now owned by Facebook, Instagram has become one of the fastest-growing social media platforms in the world.
Reach
Instagram has had peak active user numbers of up to 1 billion users.
Key demographics
According to Hootsuite, almost three-quarters of Instagram users are under the age of 35. Users average almost an hour's use of the platform per day, making them some of social media's most engaged users. India, the US and Brazil are top for user numbers.
Types of content
Users can share video and photo content via a linked smartphone-based account.
● Instagram stories is a novel format that allows you to collate a reel of videos and images that give an insight into user experiences and events.
Engagement
Users can connect with your content by messaging, liking or sharing appreciated videos and images.
Advertising
Paid Instagram ads can be used to expand your reach on the platform. Ads are formatted for maximum reach and can be:
● Stories
● Photos
● Video
4. LinkedIn
What is it?
LinkedIn is the foremost social media platforms for professionals and continues in its mission statement of connecting them to become more productive and successful.
Reach
Over 300 million users log into LinkedIn monthly and 40% will check in daily.
Key demographics
US users dominate LinkedIn with over 160 million users. India follows with 60 million. The largest age category is 30-49 years and men marginally outnumber women.
Types of content
LinkedIn users can publish posts publicly or to their network. Links, hashtags, videos, slideshows and photos can be easily shared. Video can also be live-streamed.
Engagement
LinkedIn encourages connected members to share, like (thumbs up) and comment on posts from members they are connected to or follow.
Advertising
LinkedIn advertising leverages its professional audience with razor-sharp targeting and objective-based advertising that means that you can gear your ads for lead generation, sales, or to increase awareness of your brand.
5. TikTok
What is it?
Chinese video sensation TikTok is one of the newest social media apps and allows users to share selfie video content of all kinds.
Reach
With up to 800 million active users each month and growing, the momentum of this funny video platform shows no signs of slowing down.
Key demographics
TikTok's early adopters have been by far teens, who have gotten to grips with the app's ability to create and curate funny lip-sync short video content. India and China have the largest numbers of app users, though TikTok was banned in India for a period, as it was believed to cause cultural degradation.
Types of content
15-second videos are made and edited by users on the platform. A range of music and special effects can be used. Users can create a range of video types which include:
● Looped video content
● Duets
● React videos
● Trends
● Cringe videos
A variety of audio and visual enhancements can also be added to these micro-productions.
Engagement
Content can be liked, saved, commented on or reacted to, and shared both on TikTok and other social media platforms.
Advertising
Paid advertising is not yet fully implemented on this platform, and is currently undergoing beta testing. TikTok Ads do have a reputation for being pricey, but typically $10 will buy 1000 impressions on the platform.
If you want to know more about how to succeed on any of these platforms, we're here to help! We can design and implement a winning strategy which is 100% results-focused. Contact us to learn more.