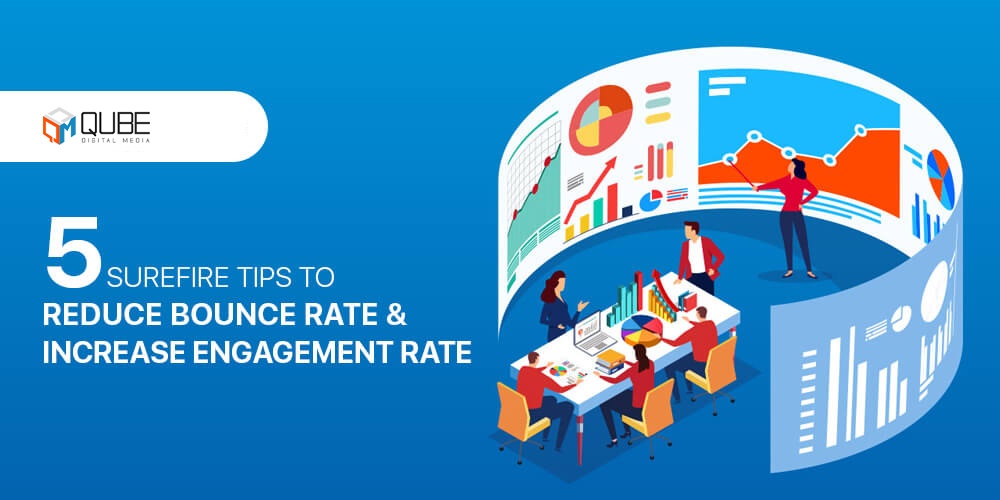 Building a great website is a time-consuming and painstaking task.
When you're planning to build your website, you obviously want to get traffic!
Just getting traffic won't help you unless your site visitors are taking your desired actions. For that, they have to find the information they are looking for quickly and complete your calls to actions.
If your web visitors don't stay for more than 5secs you'll find the bounce rate will be excessive and any marketing spent driving traffic, wasted.
Some ideas to reduce your bounce rate;
Prioritise Your Value Proposition
First of all, ask yourself, 'Why do people leave a website?' Generally, they leave a website if it fails to resolve their needs efficiently. Clearly tell your audience through the website what your business is all about and how you can help them. If your visitors don't get a clear idea about your business, they're likely to leave.
Explain your business to the audience in one line at the top of the landing page. Write it in a conversational tone so as to connect with your audience easily.
Write Engaging Copy
No one wants to read a sales pitch. Avoid wishy-washy headlines for your content, make the content engaging by not using jargon-filled, long paragraphs.
Short and bold headlines will demonstrate clearly the purpose of the page. This is one of the most effective ways to reduce your bounce rate. Make sure that paragraphs are concise and contain no more than 4 sentences.
Plan the Structure
How you structure the web content to increase the engagement rate? Look at it from the perspective of a storyteller. Just like a story, create sections of beginning, middle and end.
For instance,
The Beginning: Showcase your offerings towards the visitor's needs.
The Middle: Describe the specifications of the procedure or the product.
The End: Calls To Action; Convert the visitor into your customer.
This will allow you to structure the website. The sub pages under each of the sections should explain why the prospect should buy from you and how it would help him or her.
Include CTA Buttons
CTAs are effective not only for decreasing your bounce rate but also for boosting the conversion rate.
Set goals for each of your websites pages. Include CTA buttons so as to achieve these goals. For instance, you can ask the visitors to subscribe to the website to receive your latest news or offers. Tailor the CTAs to the pages' purpose which will drive your conversion rate.
Focus on The Technical
Make sure everything is working "behind the scenes". Check whether visitors can navigate the website hassle-free. Test the loading page time of your website. If it's slow, you're likely to lose traffic. Make your site mobile-friendly to increase your brands visibility.
Finally
The longer visitors stay on your website, the easier you can build trust. Try the steps above to reduce down your bounce rate and boost conversion rates.
We're here if you need any help, visit https://www.qubedigitalmedia.co.uk today.